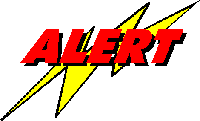 Special Note: as of February 2, 2009
Please add bmxspotterchat@muc.appriss.com as a buddy for continued access to the chat room.
Severe weather in central Alabama is serious business. It is something that affects us all. With this in mind, ALERT is beginning a new era in storm reporting by starting The Central Alabama IM Chatroom. The Central Alabama IM Chatroom is a exciting new online method for sending storm reports via instant messaging. This service was set up by ALERT to allow trained weather savvy citizens of Alabama to help the National Weather Service (NWS) in it's warning decision process. With trained individuals from across central Alabama providing reports in real-time, we can help the NWS warn downstream, as well as help to gather ground truth for days after an event. Take time to read the following guidelines and then follow the link to see how to join.

Central Alabama IM Chatroom Policy (version 24 October 2007)
The terms and conditions for use of the Central Alabama IM Chatroom. By using this project, you agree that:
1. The National Weather Service (NWS) is by no means responsible for the services provided to the Central Alabama IM Chatroom nor are they mandated to participate with the project. All NWS participation is voluntary and should be be considered non-operational.
2. This service will be maintained to the best of our abilities, but is not operationally supported 24/7. There are no guarantees that this service will be available during every severe weather event. This service is not meant to replace operational technologies like NOAA Weather Radio, Internet, NOAAport, or Weatherwire.
3. Information provided by automated programs within the chat framework (example iembot) are not officially disseminated by the NWS. Their accuracy and timeliness is not guaranteed.
4. Access to this service is a privilege and not a right. ALERT reserves the right to grant and revoke access to this service.
o Access will be granted to groups with operational meteorologists and a mission for public information dissemination. Other groups may be let in based on the discretion of the project leaders.
o Access will be revoked to groups that abuse this service. Abusive behavior includes, but is not limited to malicious use of the chat service, inappropriate language directed at other participants, or any other action deemed outside of the spirit of this collaboration.
5. All chatroom messages are logged and are in the public domain for dissemination.
Central Alabama IM Chatroom Access
Access to this chat room is not a decision made by the NWS. The final decision to allow access will be made by ALERT.
Currently, groups given access to this project.
· National Weather Service Forecast Offices
· Broadcast media groups with operational meteorologists.
· Emergency Management
· Skywarn Spotters



Central Alabama IM Chatroom Etiquette
With many users in a chat room at once, it is important to keep the signal to noise ratio high. These guidelines are probably not as important when there isn't severe weather. So with active warnings, please consider the following suggestions for etiquette.
1. Avoid any idle chit-chat
Many folks are running the chat software on a separate PC, so they have to physically drop what they are doing to read your message. Don't type in the chat just to hear yourself talk.
2. Don't nowcast or ask storm particulars
Avoid saying things like 'that storm is impressive' or that is 'an impressive line'. Most importantly, refrain from asking "I live here…is that storm going to effect me in the next 2 hrs?".
3. Don't pop into rooms
Please don't just join a room quickly to read what is going on and then leave. If you don't plan on contributing to the room, don't join it. This chat software supports your simultaneous presence in as many rooms as you like. So join and stay a while! :)
4. Avoid private messaging the NWS
The leaders of this room (ALERT) are in direct contact with the NWS. Please use this room as a means for us to relay information to them. There may be times when the NWS directly contacts you or submits a question to the room. Please extend the highest courtesy to them by giving the most accurate report you can. Also, only in the most extreme circumstances should you contact the NWS privately.
5. Storm Reports
This room is solely intended for the sharing of storm reports. Please include the magnitude and time of any report you wish to share. If you don't know those values, please state so. For example, a bad report is 'hail reported in Northport'; a good report is 'unknown size hail reported in Northport now'. Stating the time and magnitude avoids the leaders of this room from asking for this info, since it is needed for NWS storm reports. At no time should you type in the chat a misleading or bogus report. The following is more information on Storm Reports.
a. Reporting Severe Weather
b. Storm Spotter Class Schedule
6. Avoid TV Reports
Both the NWS and ALERT are in communication with the Local Media so we usually know about those reports before they are broadcast over the air. The idea of this chat is to get new reports from spotters in the field to help facilitate the warning process.

Click here for information on how to join the chat.